Kitchen Layouts with Longevity
September 20, 2022
6 min read
Your new kitchen will only be as functional as its layout. Even if you opt for the most upscale finishes and kitchen cabinets, if your layout is clunky, odds are good your new kitchen will get old pretty quickly. This is why it's important to research before settling on a new kitchen design. Go online to see what's trending in kitchen layouts, then visit a few showrooms to get the feel of the layouts you love the most.
Every family has different needs. Large families with small children may love the convenience of a peninsula kitchen with linear seating and pendant lights overhead. This gives everyone enough space and sufficient lighting to snack or do homework at the same time. But if it's just you and your significant other who loves to cook, you might prefer changing out that peninsula for a spacious center island with tons of extra storage. There are no right or wrong kitchen layouts, really. But yours should suit your lifestyle and fit attractively into the space you have available. Here's what we recommend when it comes to choosing a good, functional layout for the heart of your home.
Familiarize Yourself with the Most Popular Kitchen Layouts
Things are usually popular for good reason, and kitchen layouts are no exception. The ones for which we see the most demand include:
Galley
L-Shape
U-Shape
Center Island
These are the designs homeowners seem to love. And they love them because they make life convenient. For instance, they provide at least 42 inches of walking space all around the island. Major appliances are placed at points of a "triangle" to eliminate unnecessary footwork. Sometimes, a workstation, where everything is in easy reach, replaces a triangle. And usually today's kitchen islands do double or triple duty by housing sinks, dishwashers, or cooktops, as well as additional seating.
A well-designed kitchen provides plenty of counter space and extra storage, and it allows for convenient traffic flow away from workstations. Whether you prefer your countertop space in a U- or L-configuration usually depends on how your adjoining walls and spaces are placed. A formal dining room that's adjacent to your kitchen, for instance, may make a peninsula unnecessary and make your new kitchen feel too cramped. Similarly, a spacious kitchen that features a too-simple galley design may seem too cavernous and cold. Plan to fit your space and your family, and you'll be left with a remodeled kitchen you'll never want to leave.
Most Popular Kitchen Layouts Defined
There are plenty of kitchen layouts from which to choose, but not every one is right for every space. And if you pick poorly, you'll be stuck living in your own bad decision for years to come. That's why we've compiled the short list of best kitchen layouts that are adaptable to most spaces. They include:
Galley Kitchens
Galleys, or corridor kitchens, feature opposing walls of cabinetry and appliances, with a long walkway down the middle. They tend to work well in small spaces such as apartments or condos. And they usually provide plenty of counter space for prep work. More than one person may find it tricky to cook in a galley kitchen, however, because quarters are usually close. A kitchen island is out of the question, too, because the central walkway is usually too narrow.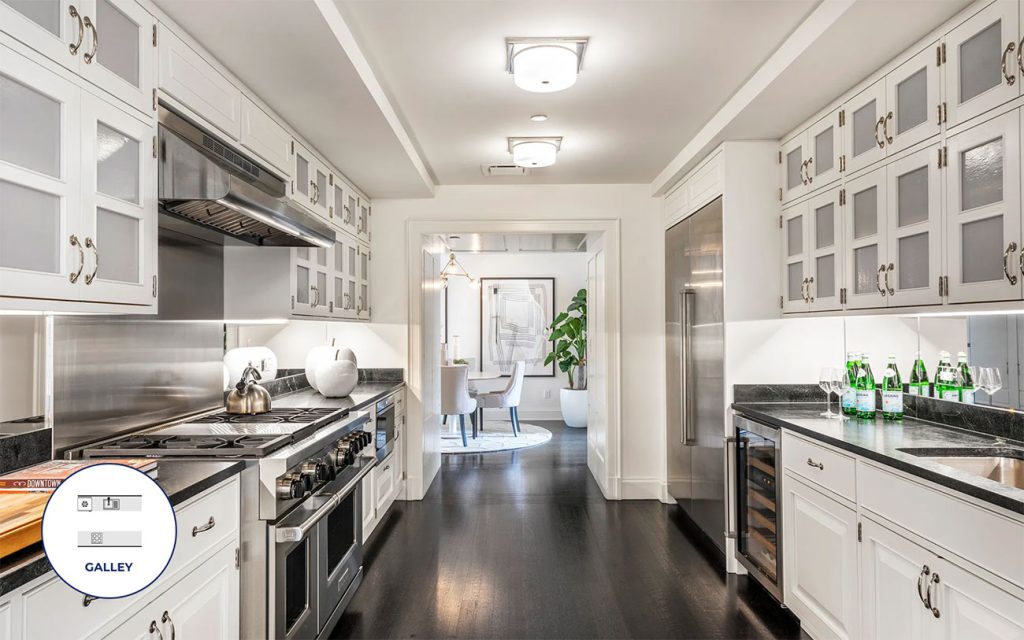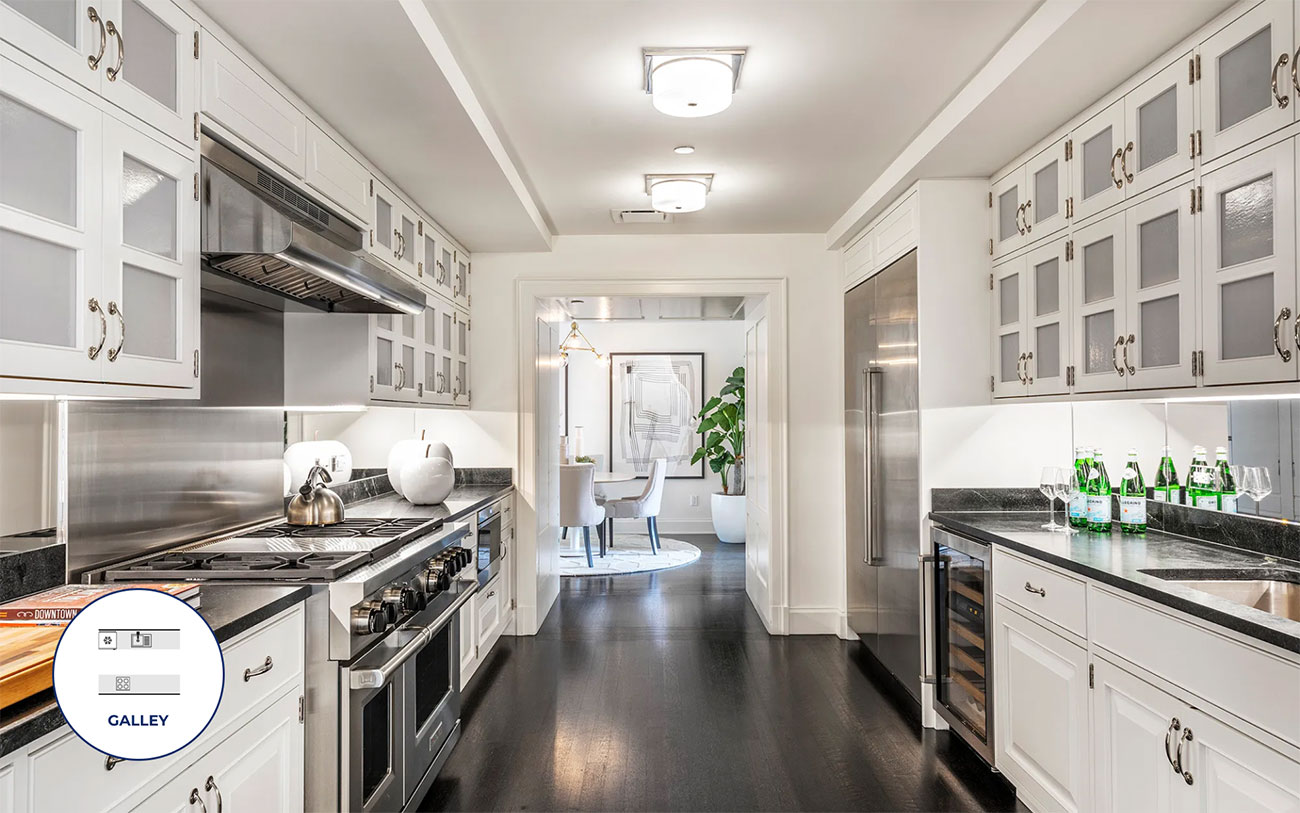 L-Shaped Kitchens
Two adjoining, perpendicular walls form the structure for an L-shaped kitchen. Usually cabinetry, uppers and lowers, are placed along both walls, making for ample storage space. An L-shaped layout gives the cook plenty of countertop space, as well. The advantages to an L-shaped kitchen include the prospect of adding an island or dining table or the possibility for an open-concept space, where another room flows into the kitchen. This allows the cook to interact with their guests, or keep an eye on their children, as they're preparing the meal. One disadvantage to L-shaped designs is the awkward corner cabinet and stretch of countertop formed where the legs of the "L" meet. 
U-Shaped Kitchens
The U-shaped, or horseshoe kitchen, features three areas of countertop and cabinetry configured in a U-shaped design. This layout can add a bit of separation between rooms without the need for a pesky wall. The cook can still see what's going on in the adjoining space, but they're somewhat separated from the chaos. You'll have plenty of counter space and storage, but unless your kitchen is huge, a U-shaped kitchen probably won't allow for a central island. And remember that awkward corner cabinet? In a U-shaped design, you'll have two.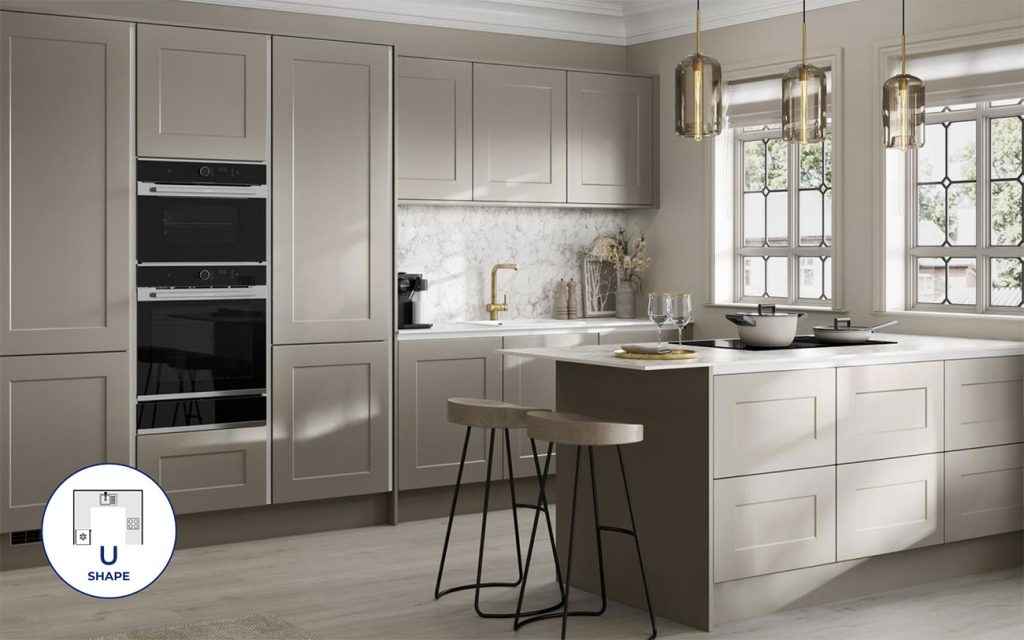 Center Island Kitchens
Many homeowners love a central island, especially if it has extra features, such as multi-levels, a kitchen sink, or a cooktop. A center island may feature open shelving, doors, drawers, or any combination of the three. And it often boasts accessories such as towel bars or wine racks. An island adds additional workspace and gives you a place to put more cabinetry. However, it can make a smaller kitchen feel decidedly cramped.
How to Choose the Perfect Kitchen Layout for Your Space
Once you've seen and experienced the types of layouts that most interest you, the next step is to compile a list of must-have kitchen features. Some will affect the placement of your kitchen cabinets and appliances. For instance, if you want a wine cooler, it might be best to find an island able to house it. And if you have your heart set on a separate coffee bar, you'll need to factor it into your layout. Some of the more trending kitchen features for 2022 that homeowners feel they can't live without include:
Farmhouse or under mount sinks
Cabinets that hide trash and recycling
Refrigerators that are built-in
Industrial-grade ranges
Specialty storage for items such as spices, utensils, cookbooks, and small appliances
Smart technology
If you also dream about these features in your remodeled kitchen, you'll need to communicate this to your general contractor before choosing a layout. You should talk with your family or to others who will be sharing your space, as well. Your kitchen is a gathering spot where friends and family meet to dine, to chat, to play board games, and to be entertained. The kitchen layout you choose can either make those tasks easier and more convenient or too challenging to be worth the effort. Make sure you choose wisely!