Your Ultimate Guide to Riding Lawn Mowers
July 15, 2022
8 min read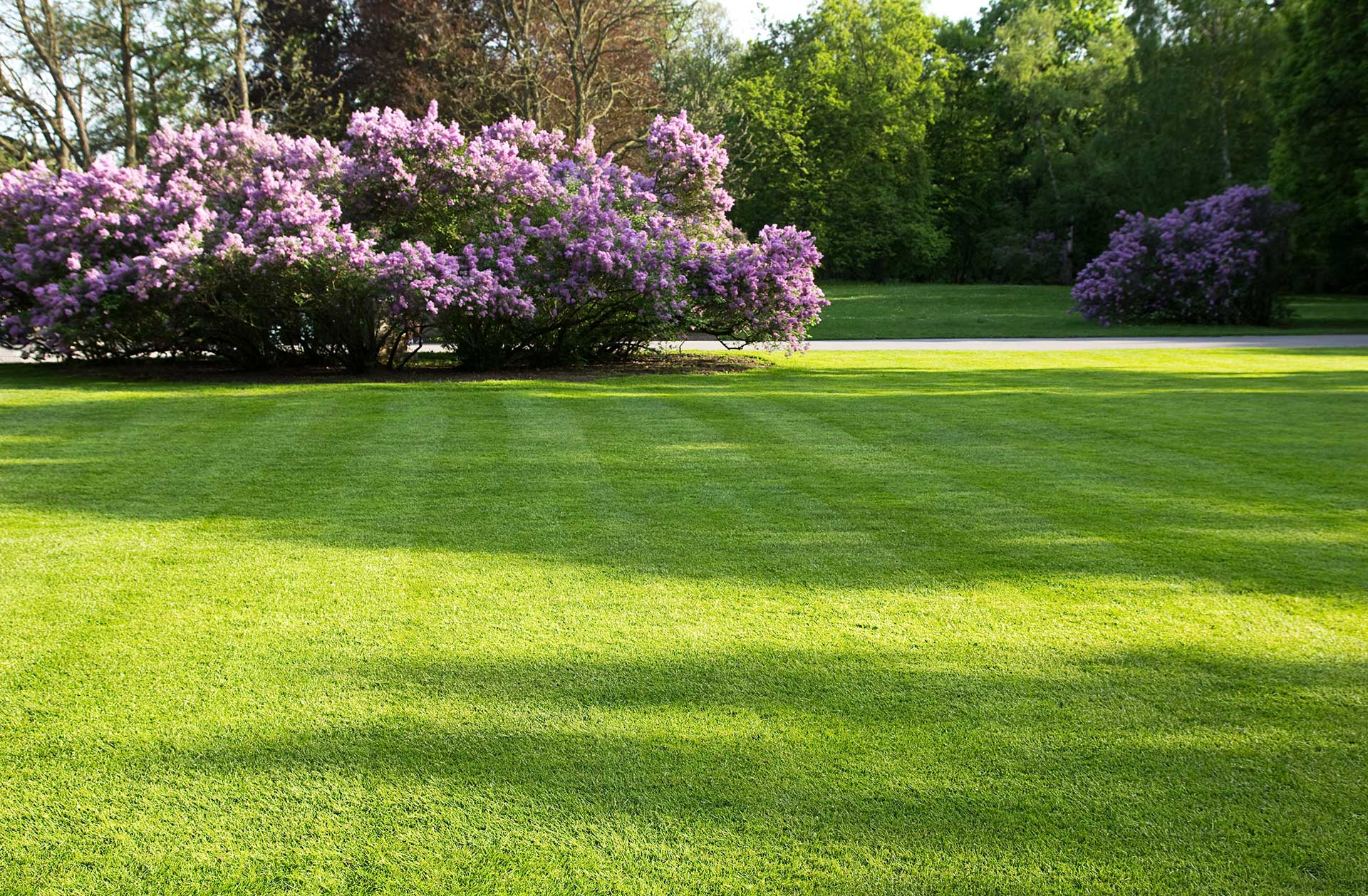 No exterior renovation is complete without a well-designed and neatly manicured lawn. But cutting around ornamental trees, perennial gardens, and hardscaping can be a real hassle. That's why we've put together this impromptu guide to quality riding mowers. A riding mower can cut your mowing time in half, but it's important to buy a riding mower that fits what you need it to do. 
Benefits of Electric Riding Lawn Mowers
If you're ready to replace an outdated riding lawn mower, the argument for choosing electric is impressive. Electric riding lawn mowers are superior over gas-powered mowers in many ways, including:
Electric riding lawn mowers eliminate the need for costly fuel-ups.
Electric mowers generally run much more quietly.
These mowers require no sparkplug, oil refill, or fuel filter maintenance.
Electric riding mowers generate no pollution while cutting grass, which makes them more environmentally friendly.
They come in a variety of styles and features.
Currently, the rising cost of gasoline is the number-one reason most homeowners are suddenly considering buying electric lawn equipment. But, for many, once they begin researching, they find there are so many more good reasons to choose electric. This includes the fact that electric mowers are available at different price points to meet many different budgets.
How to Choose the Best Riding Lawn Mower
Whether or not you've made the decision to switch to electric for your outdoor appliances, such as riding mowers, push mowers, weed trimmers, and hedge trimmers, there remains the problem of choosing the one that's the best fit for you. When it comes to electric riding lawn mowers, there are several brands that outshine the rest. These include:
RYOBI
RYOBI brand is owned by Techtronic Industries, the same company that owns Dirt Devil, Hoover, and Homelite. RYOBI is headquartered and manufactured in Japan and is a worldwide brand that's sold through several retail outlets, including The Home Depot and Lowe's Home Improvement.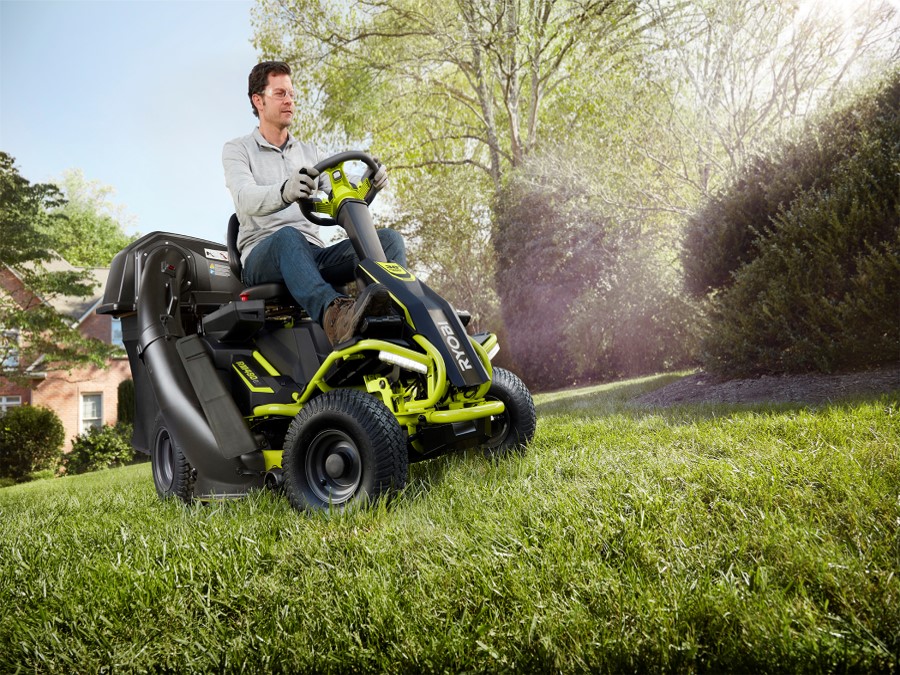 Cub Cadet
Cub Cadet has been manufacturing riding mowers since 1961. Cub Cadet products are manufactured in the United States, and their office is located in Cleveland, OH. You can find Cub Cadet products at Tractor Supply Company and The Home Depot.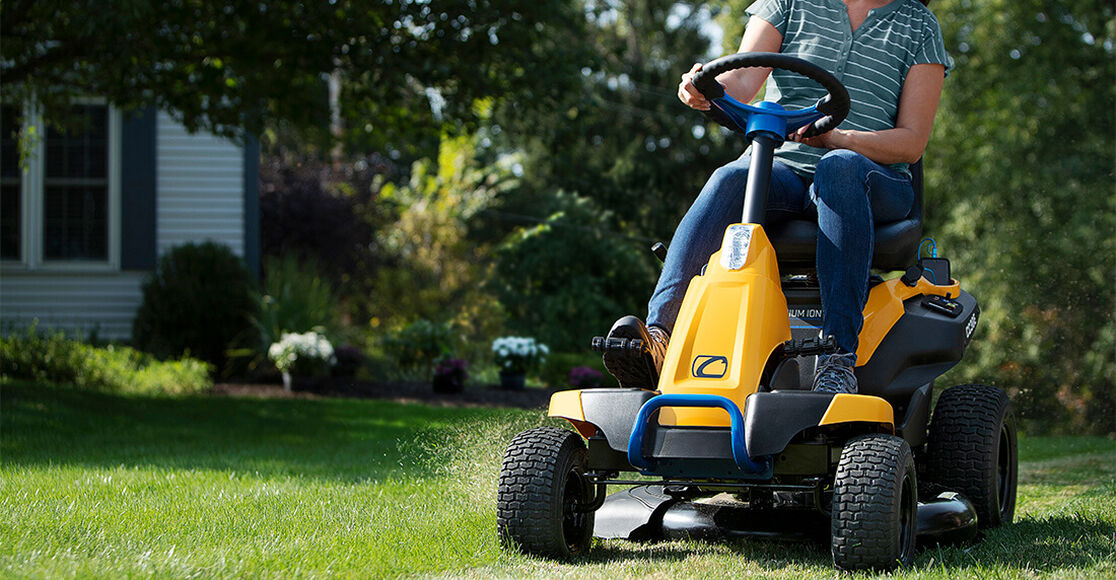 Greenworks
Greenworks introduced their first cordless lawn mower in 2011. This China-based company has a North American office located in North Carolina which serves both the United States and Canada. Greenworks is a worldwide brand of electric outdoor power tools. You can find Greenworks products at Tractor Supply Company, Lowe's Home Improvement, and Costco, along with several other retailers. 
EGO
EGO is a worldwide brand that's headquartered in China. EGO products have been available in the United States since 2012. A top name in cordless outdoor equipment, EGO Power tools are available at retailers such as Lowe's Home Improvement, Ace Hardware, and Walmart.
When purchasing an electric riding mower, keep these considerations in mind:
Battery Life
Time it takes to recharge the battery
Turning radius
Weight
Mowing speed
Safety features
Once you've decided which brand of mower you'd like to explore, you may want to consider the different types of electric riding mowers each offers and the features of each.
Riding Lawn Mower Versus Other Types of Mowers
There's no argument that a riding mower offers big advantages over other types of lawn mowers. For sheer volume of grass mowed to ease of mowing, riding mowers are superior choices. But if you've not yet decided whether a riding mower is worth the investment, we've put together a short list of comparisons of the most common types of mowers and how they rank next to riding mowers.
Walk-Behind Mowers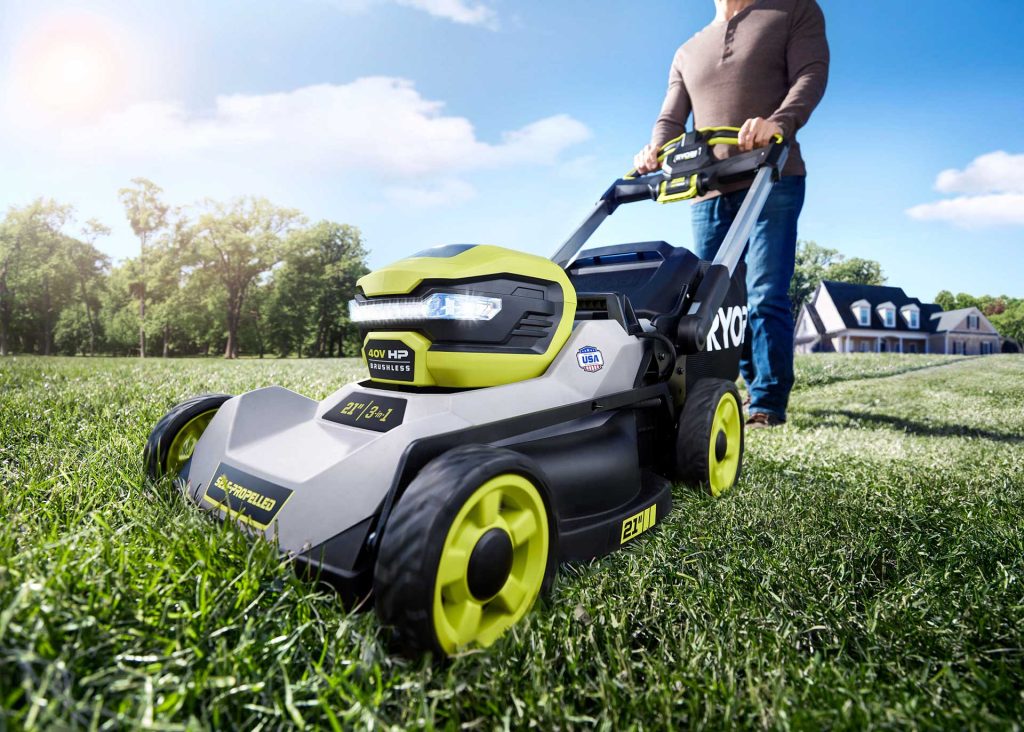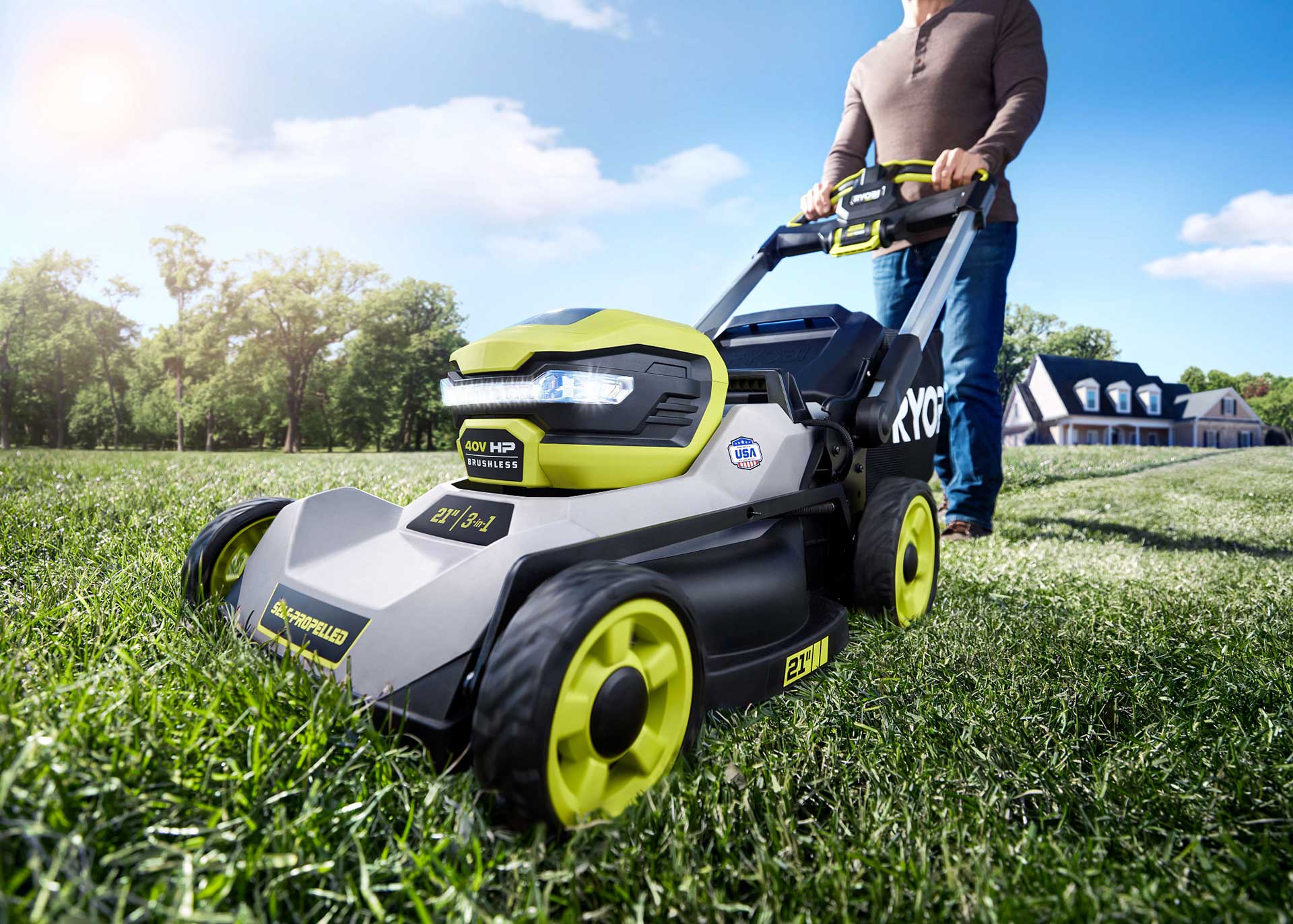 A walk-behind mower is one the operator steers by walking behind it. While walk-behind mowers can be durable workhorses, they do require more effort to operate. It also takes longer to mow the same acreage with a walk-behind mower than it does with a riding mower. The two main types of walk-behind mowers include:
Self-Propelled — Self-propelled mowers move forward on their own once the cutting mechanism is engaged. With a self-propelled model, the operator only walks behind the mower to steer it, and no pushing is involved.
Push Mower — A push mower moves forward only when the operator pushes it. It takes more effort to operate a push mower. However, it's also possible to mow in reverse, which isn't doable when using a self-propelled mower.
Lawn Tractor
Lawn tractors are similar to riding mowers in that the operator rides atop the vehicle. However, the cutting deck is centrally located in the middle of the lawn tractor. On a riding mower, the cutting deck is placed forward, making it easier to maneuver a riding mower around lawn obstacles, such as tree stumps, shrubs, or gardens. Lawn tractors usually cost more, are larger than riding mowers, feature higher horsepower, and are often capable of towing small trailers.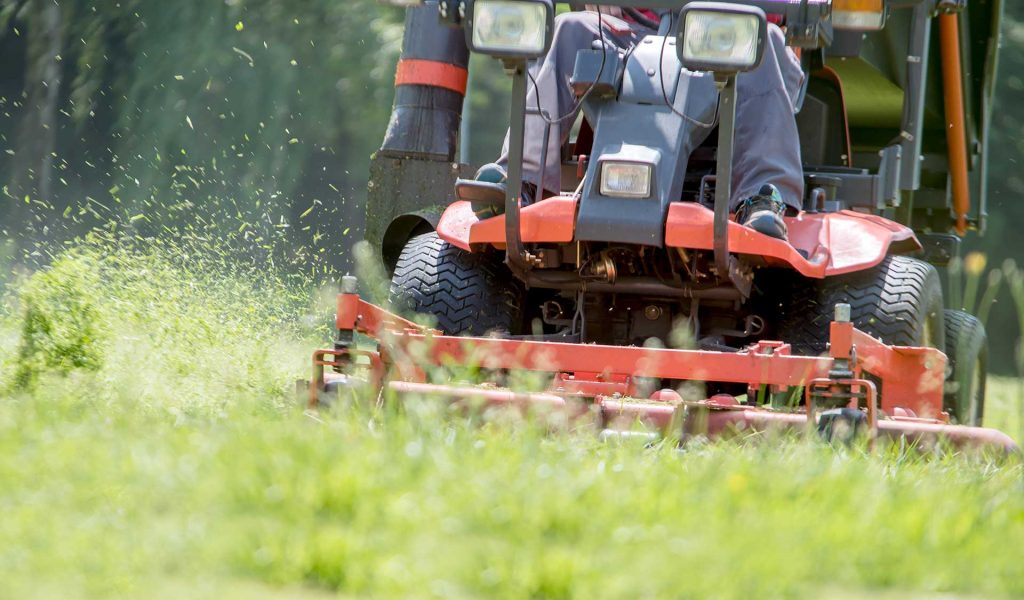 Zero-Turn Mowers
A zero-turn mower is actually a category of riding mower, but it offers greater flexibility. Zero-turn mowers are capable of rotating 180 degrees on a dime, making it easier to avoid obstacles and to cut nicely aligned swaths with less effort.
The Five Best and Most Reliable Riding Lawn Mowers to Consider in 2022
We've selected our top-5 riding mowers, based upon customer reviews, brand reliability, individual features, and overall performance.
Pros — 24 HP Kawasaki V-twin engine, comfortable 20-inch seat, 4-year or 300-hour bumper to bumper warranty
Cons — Stiff control levers, loses traction on hills
2. RYOBI 48V Brushless Electric
Pros — 2.5 hours of runtime on a single charge, 12 available deck adjustments, quiet
Cons — Batteries are expensive to replace, parking brake situated close to foot
Pros — 20HP Kohler twin-cycle engine, Turf-master tires for added traction, 42-inch steel deck
Cons — Mulching blades may be difficult to find
4. Cub Cadet Enduro Series XT1
Pros — 12 selectable cutting heights, push-button cruise control, 3-year warranty and 5-year frame warranty
Cons — High gas consumption
Pros — Cuts 2 acres on a single charge, mulching, bagging, and side-discharge, speeds up to 8 mph
Cons — Loses traction on hills
Our Pick for Most Reliable Riding Lawn Mower and Why
While every machine in our top five is a fine investment, when it comes down to customer satisfaction, our top pick is RYOBI's 48V Brushless Electric riding mower. Garnering 4.5 stars out of 2186 reviews, this battery-operated riding mower scored points again and again for long battery life, ease of handling, power, and turning radius.
Frequently Asked Questions
1. Why are riding mowers so expensive?
Many of today's riding mowers range between $1,000 and $5,000 in price. But because of the science and labor involved, this isn't really that expensive. It costs much more to produce a riding lawn mower because there are more parts involved, there's more technology involved, and because they feature more sophisticated designs than walk-behind mowers. A riding mower may have a drive engine, a cutting deck that raises and lowers, and an advanced, built-in safety system to prevent accidents. It also features a seating area that must be comfortable and secure.
2. What is the best brand of ride-on mower?
When it comes to riding lawn mowers, John Deere tops the list time and again. Although the John Deere line of riding lawn equipment is better described as lawn tractors. These powerful outdoor tools feature wide cutting paths, V-twin engines, and adjustable blade heights. John Deere mowers are available at retailers such as The Home Depot and Lowe's Home Improvement, and they range in price from around $2,300 to $3,200, although currently, all are gas-powered only.
3. What are some downsides of battery-powered lawn mowers?
Although electric riding mowers are eco-friendly and may be cheaper to operate, they do have some limitations. Most more affordable versions are only capable of mowing up to .75 of an acre without requiring a recharge. This makes them ideal for small lawns, but less so for large, sprawling landscapes. And it's a good idea to keep an extra battery on hand and charged at all times, which means you'll have that added expense. Batteries for electric mowers can be hard to find and rather pricey. Also, if you have lots of hilly or unlevel terrain, a gas-powered riding mower may be the better choice.
4. What are the longest lasting electric lawn mowers?
Riding mowers from trusted brands such as John Deere, Troy-Built, Cub Cadet, EGO, RYOBI, and Craftsman are likely to last longer than those manufactured by lesser-known, cheaper brands. These mowers also feature reliable warranties, and they come with detailed maintenance schedules to help you get the most out of your new mower. Ideally, a quality riding mower that has been well maintained should be capable of lasting 8 to 10 years.
5. Are electric mowers safe?
If you maintain it to manufacturer standards, an electric riding mower should be just as safe to operate as its gas-powered alternative. Unlike some walk-behind versions, there is no tether connecting you to electricity. Rather the machine is powered by a rechargeable battery, so there's no worry about running over a cable or splashing through puddles.