Whimsical Wonders: Creating Magical Children's Rooms in Los Angeles Homes
July 27, 2023
5 min read
Step into a world where magic comes to life, and dreams take flight in the heart of Los Angeles. Whether you're a parent seeking to sprinkle fairy dust on your child's sanctuary or a visionary designer ready to conjure wonder in cozy spaces, this article is your map to an extraordinary journey.
1. Enchanting Glamour: Fairy-Tale Elegance
Luxury and enchantment dance hand-in-hand in the realm of fairy-tale elegance. Embrace rich textures and charming accents that weave a story of magical wonder within your child's haven.
Example: A little prince's abode delighted Los Angeles homeowners with its enchanting glamour. Soft, shimmering drapes adorned the windows, complementing the elegant vintage furnishings. A captivating crystal chandelier graced the ceiling, illuminating the room like a starlit sky, making it a dreamy castle fit for royalty.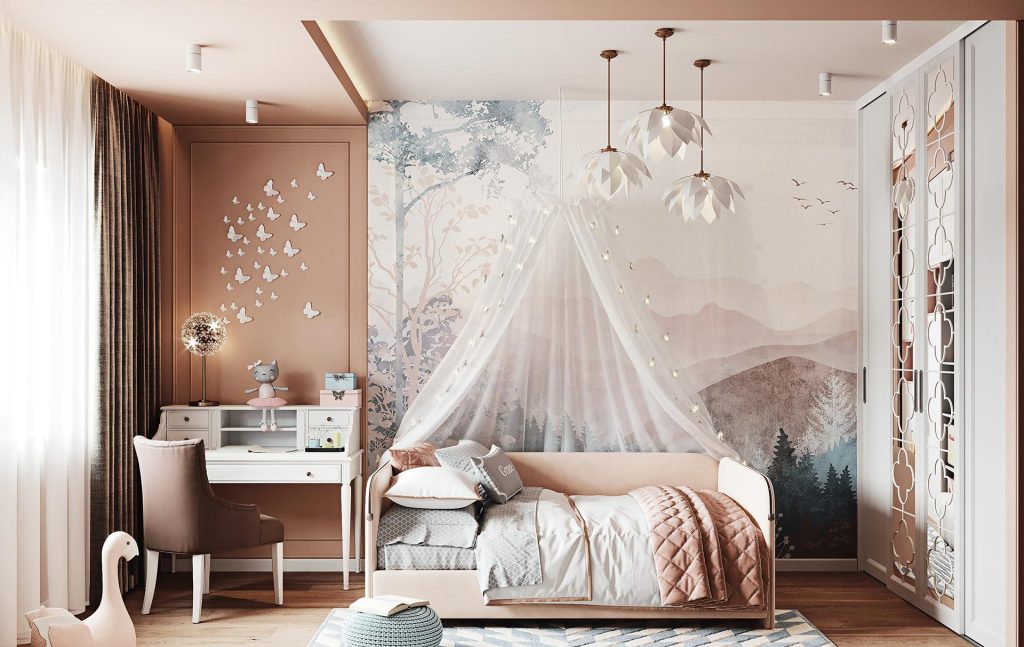 Where to Find Whimsical Furniture, Building Materials, and Magical Brands
Building Materials: Consider soft and shimmering drapery fabrics from fabric boutiques like F&S Fabrics or The Fabric Store in LA, offering a wide selection of opulent textiles.
Brands: Look for captivating crystal chandeliers from renowned lighting brands like Schonbek or Swarovski Lighting, which can add a touch of magical radiance to the room.
2. Skyward Adventures: Whimsical Loft Escapades
Elevate playtime to new heights with whimsical loft escapades. Custom loft beds adorned with playful features, secret hideaways, and imaginative nooks invite your young adventurers to explore their wildest dreams.
Example: In a shared sibling room, skyward adventures took flight with custom-built loft beds that sparkled with enchantment. A hidden reading nook beneath the loft beds offered a secret hideaway for literary journeys, while the top bunks transformed into magical treetop forts, turning bedtime into a whimsical escapade.
Source Enchanting Elements
Furniture: Seek out custom furniture makers or local carpenters in Los Angeles who specialize in designing and building custom loft beds and bunk beds to suit your child's adventurous spirit.
Building Materials: Opt for safe and sturdy materials like solid wood or metal for loft beds and secure railing systems for added safety.
Brands: If you prefer ready-made loft beds, explore options from popular children's furniture brands like Maxtrix, Oeuf, or Dorel Living, which often offer whimsical and functional loft beds.
3. Nature's Enchantment: Organic Elegance
Let nature weave its spell of enchantment in your child's haven. Embrace earthy tones, botanical motifs, and natural materials that bring the outdoors inside, evoking a sense of serene wonder.
Example: A little explorer's room embraced the beauty of nature with botanical-inspired wallpaper, leafy green accents, and plush organic textiles. The space became a tranquil woodland retreat, nurturing dreams of outdoor adventures and sparking creativity.
Sourcing Natural Magic: Discover Building Materials and Brands
Furniture: Discover organic and eco-friendly children's furniture at stores like Crate & Kids or go for bespoke pieces crafted by local artisans using sustainable materials.
Building Materials: Consider using non-toxic paint and finishes for the room's walls and furniture to maintain an organic and eco-friendly atmosphere.
Brands: Look for organic bedding and textiles from brands like Coyuchi or Boll & Branch, known for their luxurious and eco-conscious offerings.
4. Whimsy Beyond Imagination: Customized Playland
Craft a realm of whimsy beyond imagination with customized playlands. Tailor-made furniture, imaginative themed spaces, and personalized elements turn your child's room into an interactive wonderland.
Example: An exclusive playroom came to life with a bespoke playhouse featuring dreamlike murals and handcrafted details. Each corner was meticulously crafted to reflect the young occupant's passions, featuring an adventurous slide and play area, transforming playtime into a magical journey filled with imagination and physical fun.
Playful Wonderland: Explore Custom Creations
Furniture: Collaborate with skilled custom furniture makers in Los Angeles who can bring your imaginative playland designs to life.
Building Materials: Incorporate playful and durable materials like acrylics, colorful laminates, and soft foam for play area constructions.
Brands: Seek out specialty children's furniture brands like Lil' Gaea or Pottery Barn Kids' Custom Nursery Program for personalized and themed playland elements.
5. Starlit Dreams: Magical Lighting
Let the stars sprinkle their magic with celestial lighting. Twinkling chandeliers, ethereal string lights, and enchanting night lamps create a dreamy ambiance that ignites your child's imagination.
Example: A little dreamer's bedroom dazzled with a whimsical chandelier, casting a soft glow upon the room. Luminescent accents turned the space into a captivating dreamscape for stargazing and wonder-filled nights.
Starry Nightscapes: Brands to Illuminate With
Furniture: Choose furniture stores in Los Angeles that offer a variety of dreamy bedroom pieces, including nightstands and cozy seating, to complement the magical lighting.
Building Materials: Consider adding fairy lights and LED strips discreetly to enhance the starlit ambiance while maintaining a safe and child-friendly environment.
Brands: Explore enchanting lighting options from brands like Magic Lanterns or KOKOON, offering whimsical and unique lighting fixtures perfect for children's rooms.
Whispers of Magic in Los Angeles Homes
Within the heart of Los Angeles homes, a world of whimsical wonder awaits. With enchanting glamour, skyward adventures, nature's enchantment, whimsy beyond imagination, and starlit dreams, you can transform your child's room into a magical retreat that captivates the imagination of Los Angeles homeowners.
At Oasis Builders Inc., we believe that dreams are the foundation of every extraordinary space. Our team of passionate designers and visionaries is dedicated to creating enchanting havens, where whimsy and magic come alive, no matter the size of the room! Reach out to us to discuss your remodeling project!