Top 7 Materials for Kitchen Countertops  
August 12, 2022
12 min read
Looking to replace your kitchen countertops for home improvement? Without question, there's no shortage of options when it comes to kitchen countertop materials. And, every last option has its positives and negatives when it comes to attributes like durability, maintenance, or even design flexibility.
While there are literally dozens of choices, there are seven top kitchen countertop materials that customers choose more often than not. Check out the top seven kitchen countertop materials you may want to consider for your kitchen remodeling project, as well as the pros and cons of each one.
1. Quartz
Quartz countertops are engineered stone. Even though the material usually contains more than 90 percent quartz, the countertop contains quartz particles instead of being a solid slab of rock. The particles are combined with resins or other materials and then engineered into the shape of a slab. Just the same, quartz kitchen countertops have grown to be some of the most preferred out there. Quartz is innovative in its design; built to offer a natural stone look with more resilience and durability than something like granite or marble.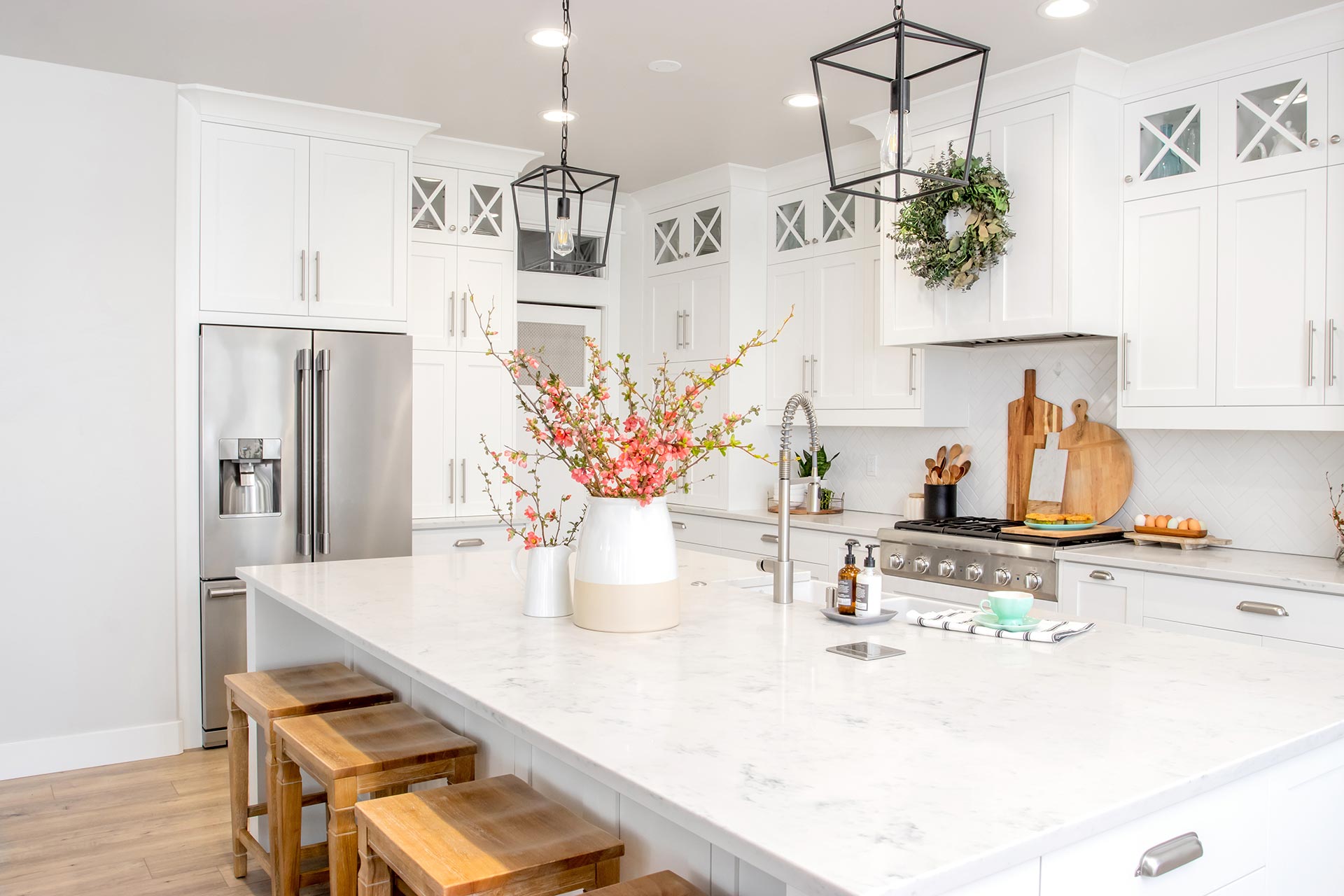 Pros
Practically maintenance-free with no ongoing sealing involved
Uniform slabs with no imperfections like natural stone
Engineered build means kitchen countertop can be custom-built for any shape
Convincing natural appearance with tons of options
Resilient to acids, heat, and stains
Cons
The finished countertops are extremely heavy
Costs can be expensive compared to other engineered products (between $50 and $200 per square foot)
Top Manufacturers for Exquisite Quartz Countertops
Caesarstone: A leading provider of premium quartz surfaces, Caesarstone offers a wide range of beautifully designed countertops known for their durability and exquisite aesthetic appeal.
Silestone: Known for its innovative and high-quality quartz products, Silestone is a popular choice for homeowners seeking elegant and low-maintenance countertop solutions that exude both style and functionality.
Cambria: With a focus on creating stunning and sustainable quartz surfaces, Cambria is renowned for its diverse selection of countertop designs that seamlessly blend durability, beauty, and environmental consciousness.
2. Granite
Hands down, if you have the room in your budget to work with and prefer natural stone for your kitchen countertop, granite is one of the most popular ways to go. Granite is the epitome of upscale elegance and can totally make a kitchen look more luxury-level with just this one fixture. Colors can range significantly, and the costs have actually come down a bit since engineered options have grown to be more popular.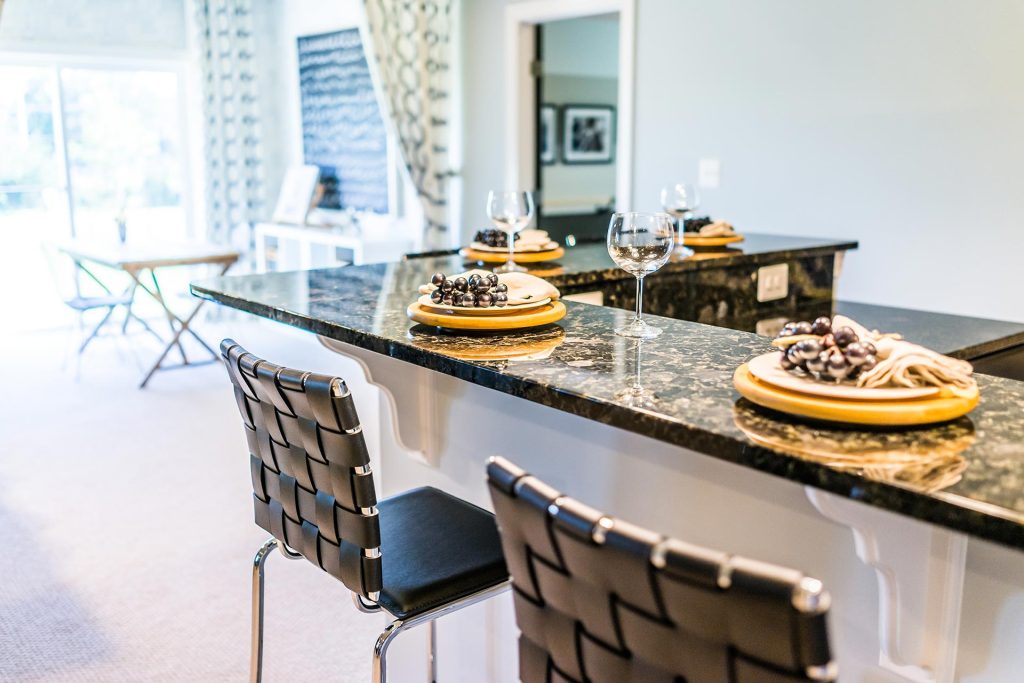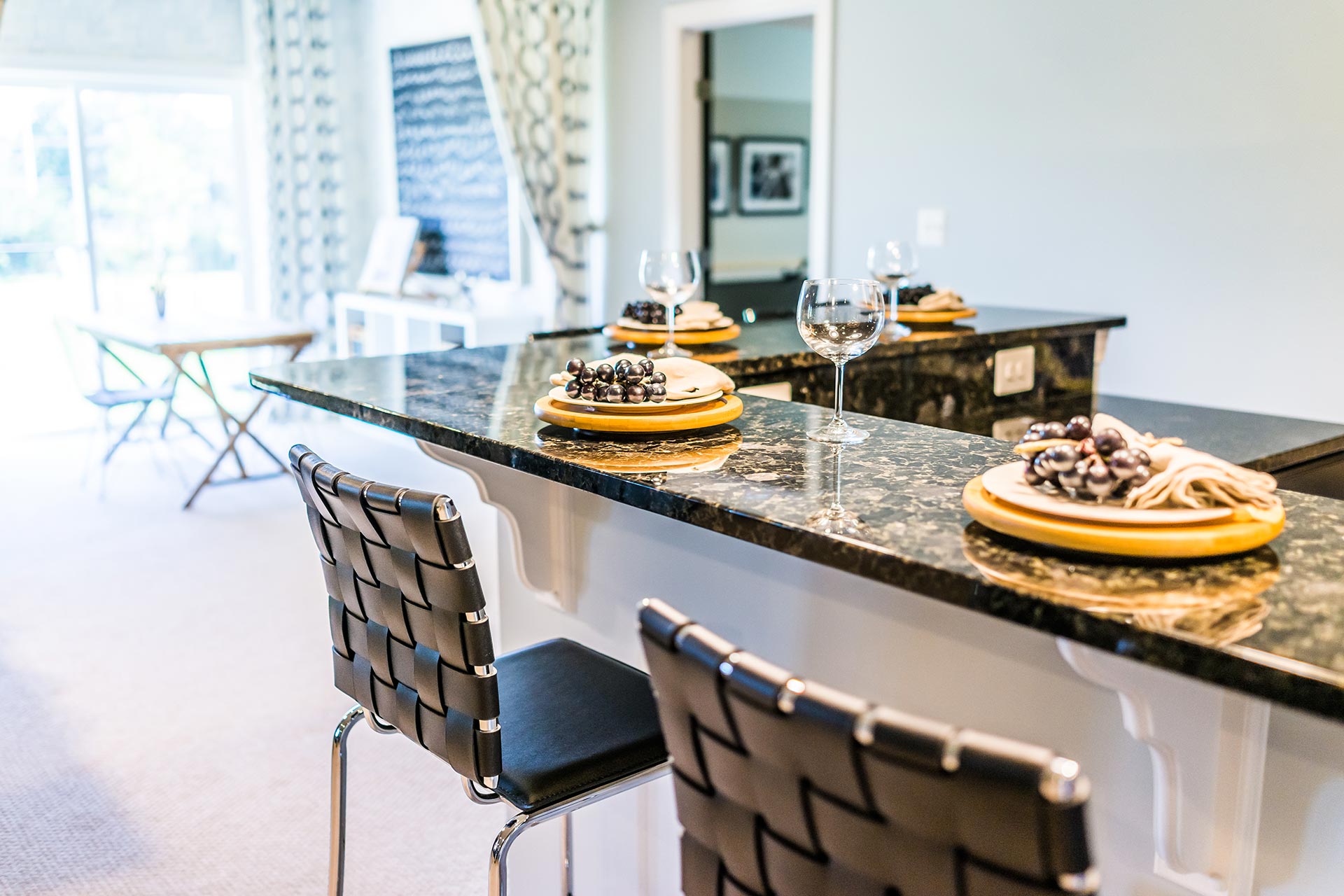 Pros
Relatively resilient to heat
Can be maintenance-free for the most part when treated properly during installation
Many styles and color options are available
Durable material that can last for the lifetime of the home with proper care
This home improvement instantly ups a home's real estate value
Cons
Most expensive kitchen countertop option (Up to $250 per square foot)
Granite slabs may have visible imperfections
Cracks when mishandled or stressed
Can be porous without the right sealer
Top Local Manufacturers for Premium Granite Countertops in Los Angeles
3. Marble
Marble is a second choice when it comes to natural stone kitchen countertops, and it is easy to see why. This monochrome-toned stone exudes absolute luxury. No two quarried slabs of marble are exactly the same, either, which means in spite of the similar colors, every slab is somewhat different. As gorgeous as marble can be, it can also be less durable and resilient than some other natural stone options.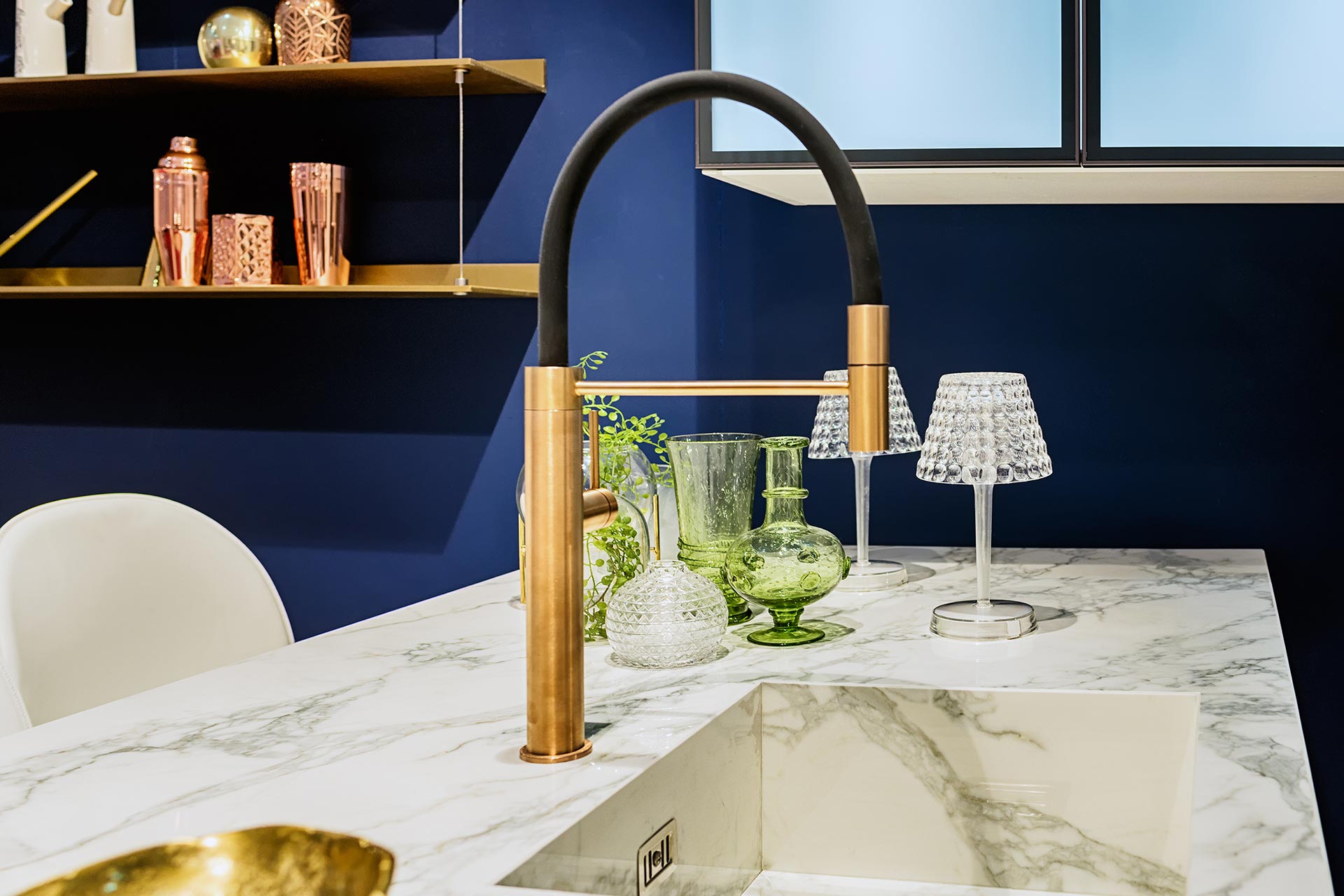 Pros
Resilient to both water and heat
Instantly elevates a home's real estate value
Beautiful stone with natural veins and hue variances
Cons
One of the more costly kitchen countertop options ($100 per square foot or more)
Prone to scratching and marring
Difficult to repair after the damage is sustained
Stains are common unless the stone is properly sealed
Leading Manufacturers of High-Quality Marble Countertops
4. Ceramic Tile
Ceramic tile adds geometric flair to the kitchen, is relatively inexpensive, and can be relatively easy to keep clean and maintain. Even though ceramic tile countertops are not as popular as they once were, this material still gets picked over others for a lot of kitchens. One advantage today is the sheer volume of style and color choices available makes it easy to create a completely unique kitchen countertop with tile.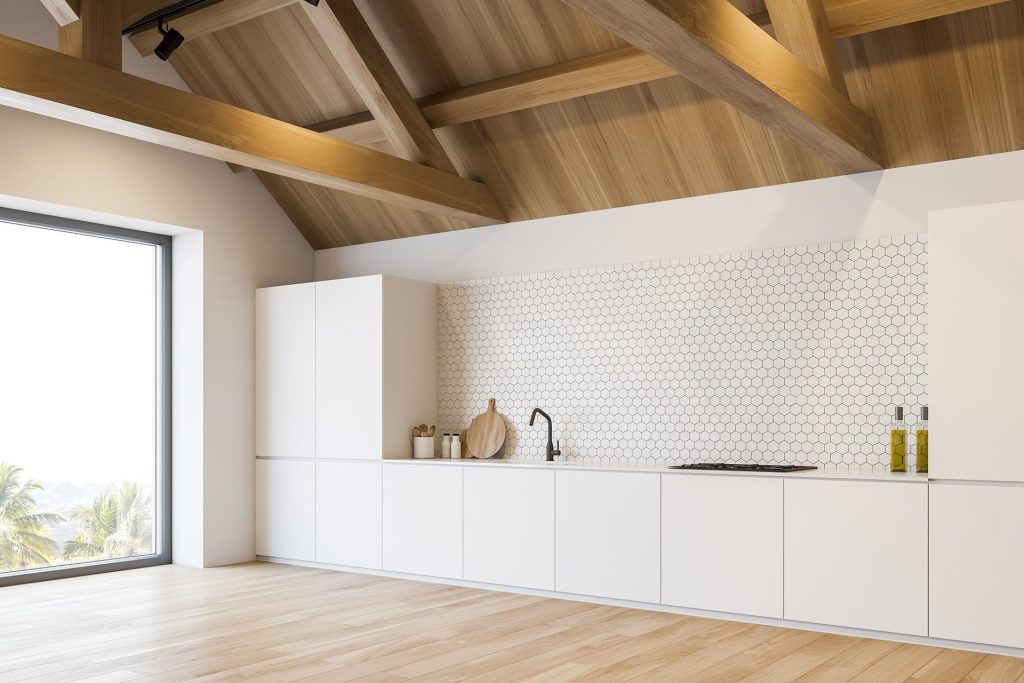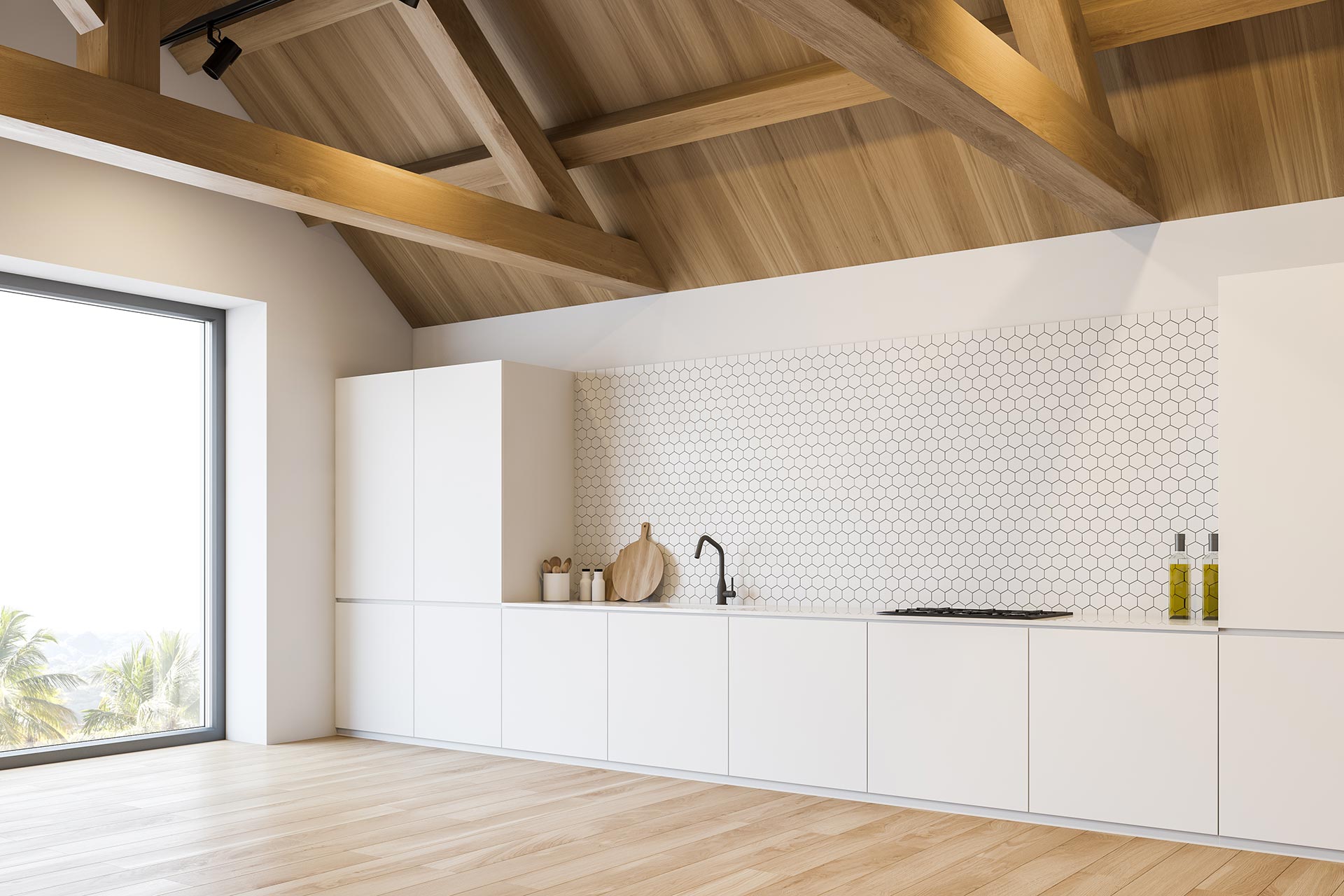 Pros
Highly affordable home improvement in comparison to something like quartz or granite
Easy to maintain and keep clean
Stands up well to heat exposure and moisture
A large array of different tile styles to choose from to go with any design idea
Cons
Tiles can crack or break with direct impact
Grout between the tiles can stain and potentially be hard to clean
Not the most value-inducing kitchen countertop option when it comes to home value
Discover the Leading Manufacturers of High-Quality Ceramic Tiles
5. Solid-Surface
Solid surface material has been in use for kitchen countertops for about half a century, and their popularity has ebbed and flowed over the years. Just the same, solid-surface countertops from brands like Swanstone and Avonite are a top option for homeowners. One reason solid-surface countertops have retained their popularity is their affordability, but the material is also relatively resilient.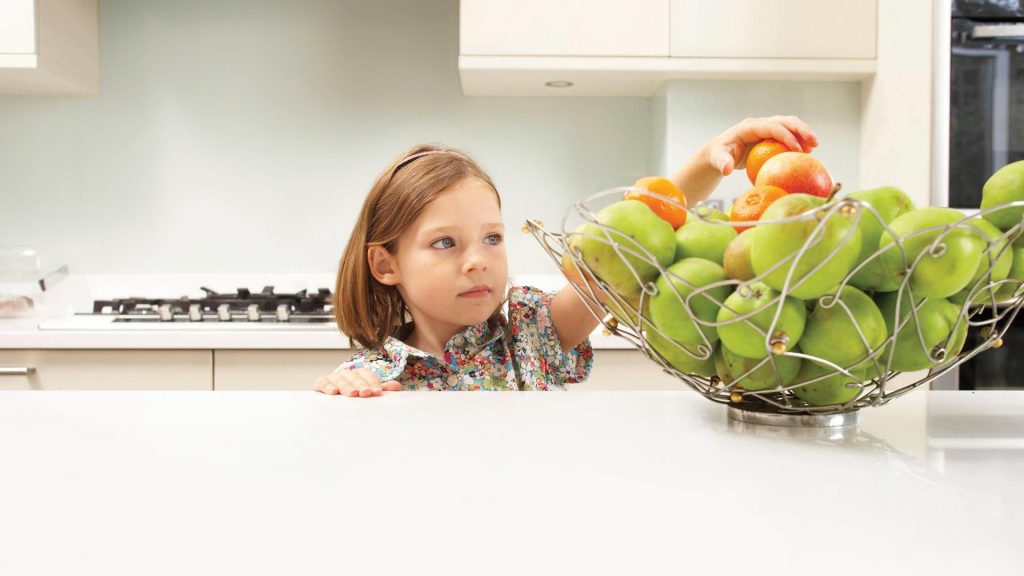 Pros
Available in just about any color or pattern you could desire
Can be made with an integrated sink for a one-piece unit
Resilient to stains
Easier to repair after damage with s bit of sanding
Cons
This kitchen countertop material cannot handle heat from hot pans
The material is moderately expensive compared to some other mid-tier countertop materials (up to $50 per square foot)
Not as durable as engineered or natural stone
Top Local Manufacturers of High-Quality Solid Surface Products
6. Laminate
The laminate kitchen countertop is one of the oldest and most-used low-tier options. This material often comes under brand names like Formica or Wilsonart. The countertop is made by bonding a laminate sheet to an MDF core, which does create a relatively resilient fixture that is highly versatile in terms of design. Also, the countertops can be purchased pre-formed, which is good for DIY home improvement purposes, but can also be fabricated custom according to homeowner specifications.
Pros
Literally, thousands of unique designs are available
One of the most inexpensive kitchen countertop options
Relatively easy to maintain
Cons
Material is not resilient; prone to scratches, chips, and even stains
Seams in the countertop will be visible with larger countertops
Very difficult to repair without completely replacing the laminate cover
Often deemed as a low-quality countertop option
Leading Manufacturers of High-Quality Laminate Countertops
Wilsonart: With a focus on innovative laminate solutions, Wilsonart offers a wide range of durable and visually appealing laminate countertops known for their versatility, affordability, and stylish designs, providing homeowners with an array of options to enhance their interior spaces.
Formica: Recognized for its commitment to quality and craftsmanship, Formica provides homeowners with a diverse selection of laminate countertops known for their durability, easy maintenance, and extensive range of colors and patterns, making them an ideal choice for various kitchen and bathroom designs.
Pionite: Specializing in premium laminate materials, Pionite offers a comprehensive range of laminate countertops known for their resilience, aesthetic appeal, and cost-effectiveness, providing homeowners with a practical and durable solution for their countertop needs.
7. Wooden or Butcher Block
Wooden kitchen countertops were once the norm, but today, homeowners looking for a warm, traditional home improvement veer toward wooden or butcher block counters. Wooden countertops can be created from a number of different wood species, but they can also be finished and treated in different ways for more unique outcomes. Oak and maple are two hardwood options most often used for kitchen countertops.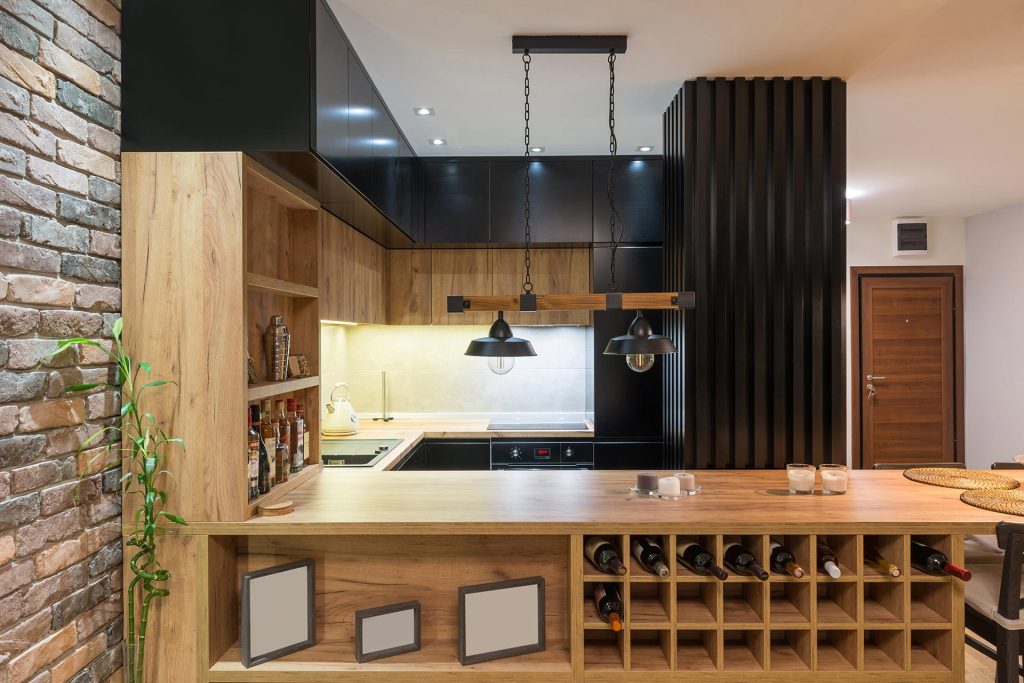 Pros
Extremely durable when properly sealed and taken care of
Easier to repair with sanding and refinishing
Provides a nice traditional look for the kitchen
Fairly easy to maintain and clean
Cons
Can be an expensive kitchen countertop option
Surface of wood can be prone to scratches, marring, and stains
Wood is porous and prone to bacteria if not sealed properly
Higher-maintenance option; needs ongoing resealing to protect the wood
Top Artisans Crafting High-Quality Wooden Block Countertops
Butcher Block Co.: With a focus on premium wooden block solutions, Butcher Block Co. offers a wide range of durable and visually appealing wooden block countertops known for their natural beauty, warmth, and functionality, providing homeowners with a classic and timeless option for their kitchen surfaces.
Hardwood Lumber Company: Recognized for its commitment to quality and craftsmanship, Hardwood Lumber Company provides homeowners with a diverse selection of wooden block countertops known for their durability, versatility, and stunning wood grain patterns, making them an ideal choice for creating a rustic and inviting kitchen space.
John Boos & Co.: With a focus on delivering premium wooden block products, John Boos & Co. offers an extensive selection of wooden block countertops known for their longevity, resistance to cuts and scratches, and natural appeal, allowing homeowners to create a warm and inviting culinary environment.
Ready to discuss kitchen countertop options for your kitchen remodeling project? Be sure to trust the professional insight of the team at Oasis Builders. Reach out to get a conversation started about your ideas of the perfect kitchen and get a free estimate.