U-Shaped Kitchens: What You Need to Know Before Adopting This Design
February 23, 2023
6 min read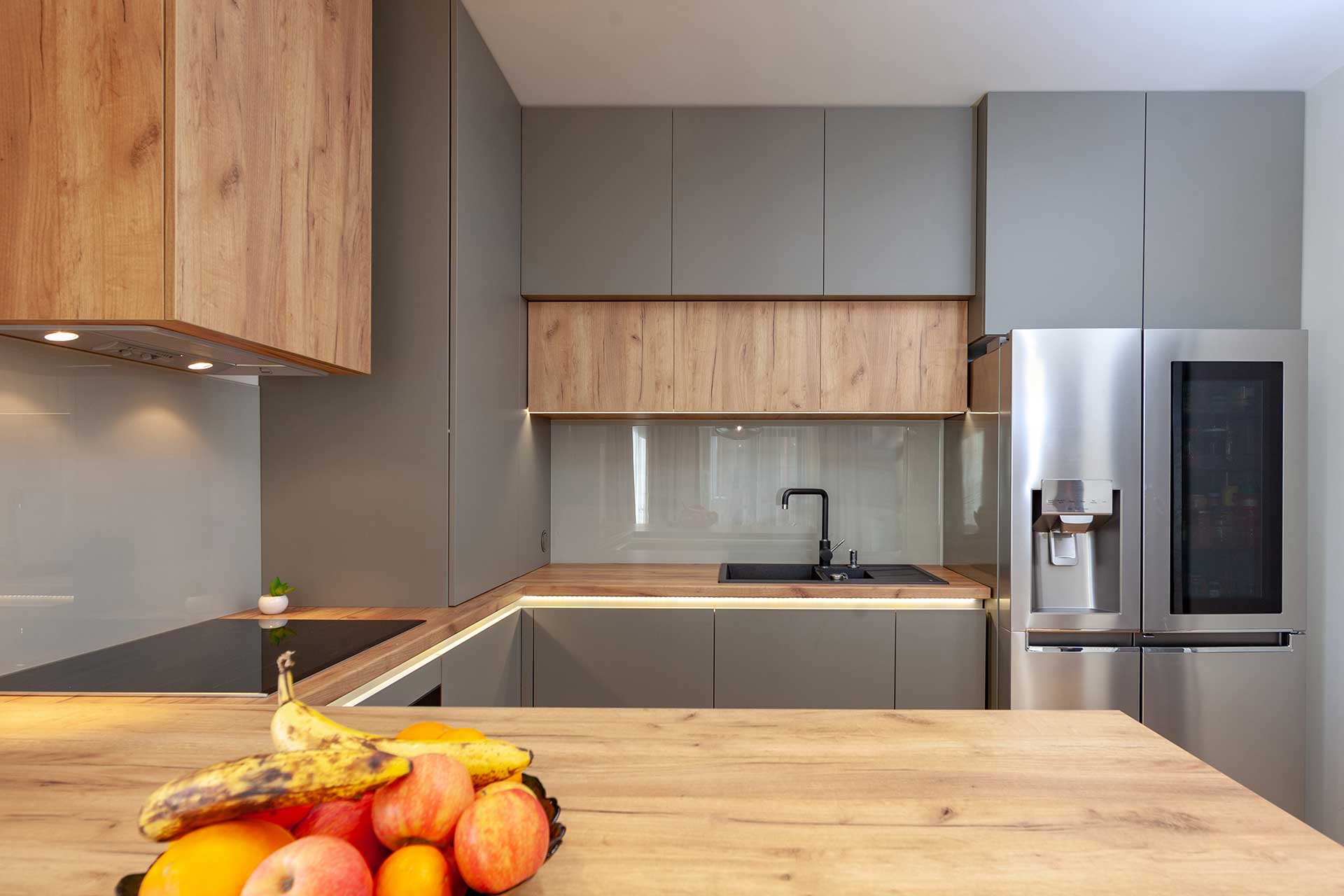 Many homeowners love a U-shaped kitchen because it's not only an attractive feature in the home, but it's highly functional as well. Kitchen layouts that feature this high-end configuration are ideal for spacious homes, and they're the perfect backdrop for a central kitchen island highlighted by beautiful, hanging pendant lights.
What Is a U-Shaped Kitchen?
A U-shaped kitchen utilizes three adjacent, wrap-around walls. In this configuration, your kitchen forms a U-shape, which usually allows for more upper and lower kitchen cabinetry and more counter space.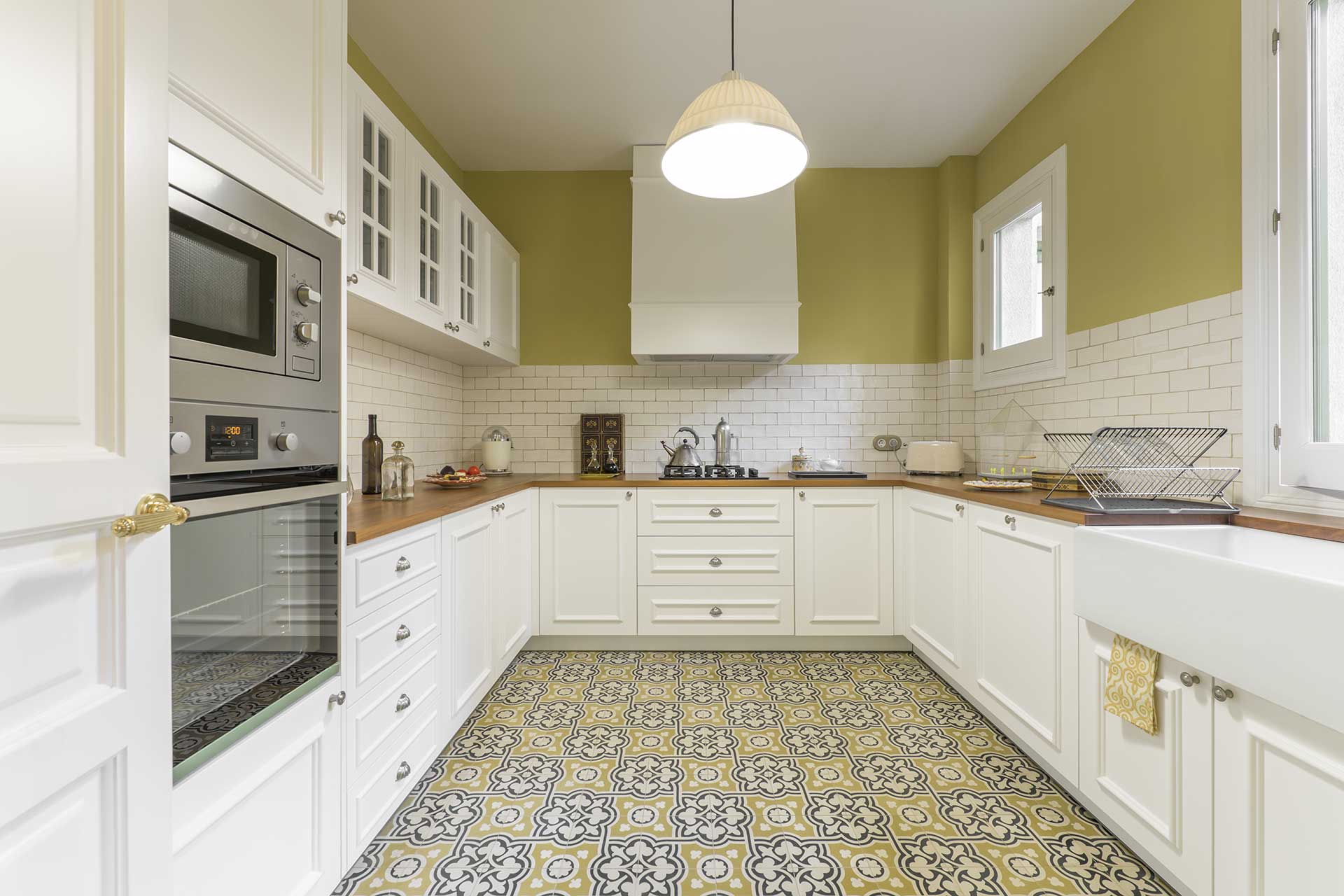 Pros of Today's U-Shaped Kitchens
If you're on-the-fence about whether a U-shaped kitchen is right for your family, there are a lot of advantages to consider. You're going to love this kitchen layout for multiple reasons:
Additional Storage
Because this floor plan usually features cabinetry or open shelves on three full walls, it offers ample storage space. And if you've found a cabinet style and finish you love, a U-shaped kitchen is a perfect way to showcase it. U-shaped kitchens leave lots of room for specialty storage features, too, including built-in pantries, hidden spice racks, and small appliance nooks.
Miles of Prep Space
And where there are lower kitchen cabinets, there are usually countertops. As a result, the U-shaped kitchen tends to provide an abundance of prep space. With countertops on three different walls, there's often room for more than one person to cook, chop, slice, or bake at the same time.
Limited Foot Traffic
A U-shaped kitchen naturally limits the amount of foot traffic that passes through your action areas. Because all countertops and appliances are neatly contained within one square or rectangular space, most of the heavy foot traffic passes by the area where cooks are working.
Extra Seating
Many of today's modern U-shaped kitchens feature a countertop area that doubles as a lunch bar. When you line one side with bar stools, you have ample seating for the whole family, along with any friends they bring for dinner.
Trendy and Fashionable
Most modern kitchen showrooms showcase at least one U-shaped kitchen option. This kitchen layout is considered high end, highly functional, and offers the ultimate in convenience, which is why it's such a popular shaped kitchen design.
Cons of Today's U-Shaped Kitchens
Unfortunately, the U-shaped kitchen is not ideal for every layout. If you have a small space, for instance, then a U-shaped layout may end up feeling crowded and cramped. There are other drawbacks you may want to consider as well, before opting for this kitchen idea.
Expensive
U-shaped kitchens need a lot of materials. They require more countertops, more cabinets, more kitchen lighting, more flooring, and often — more appliances. If you have a small space or a tight budget, it may not be the best fit for your family.
Limited Floor Space
If you're a fan of spacious, wide-open areas, a U-shaped kitchen may make you feel claustrophobic. Because there's cabinetry on three adjoining walls, floor space is usually minimal.
May Feel Cluttered
Because a U-shaped kitchen layout packs a lot of function into a single space, it can end up feeling cluttered or "close." This is why the U-shape should be reserved for kitchens that are longer or wider than average. In too small a space, it may be difficult to open and use the lower cabinetry in a U-shaped layout. Kitchens that are less than 90-100 square feet in area are not idea for a U-shaped kitchen design.
Is a U-Shaped Kitchen a Good Fit for Me?
If you have the space and the budget to accommodate a U-shaped kitchen, you'll likely end up loving it. They're extremely convenient, highly functional, and beautiful to look at. Then again, if you have limitations, you may want to consider a differently shaped kitchen design.
Things to Consider When Implementing a U-shaped Kitchen Layout
Are you planning a U shaped kitchen with island? Or are you planning to adapt your design to accommodate a small u shaped kitchen? Talk with your contractor regarding your family's needs, the things you absolutely can't do without in your new kitchen, and your projected budget when tossing about U shaped kitchen ideas.
Examples of U-shaped Kitchens
Which type of kitchen are you working with? There's an ideal layout for most. We've listed a few of our more popular designs below.
Small
A small U-shaped kitchen often places the three main appliances on opposing walls. That's the say the sink is on one wall, while the stove and refrigerator are placed on the remaining two walls. This small space layout doesn't usually allow room for a central island, but the appliance "triangle" can be preserved, thereby maintaining the kitchen's function and convenience.
Medium
Medium-sized U-shaped kitchens give you more room for customization. If there's an island, it may house the sink or stovetop. With the addition of bar stools, it may also provide seating along one side. In a moderately sized U-shaped layout, there may be room for additional appliances, such as a trash compactor or refrigerated drawers.
Large
Large kitchens that utilize a U-shape may forego the traditional kitchen triangle in lieu of "workstations" that allow multiple cooks to occupy the space at one time. There may be a food prep area for slicing and dicing, a baking area where cakes or pastries can be conveniently placed in the oven, as well as a station for stovetop cooking, cleanup, and more.
Layout Tips and Ideas
The traditional kitchen layout that places sink, stove, and refrigerator at the three points of triangle will always be popular. But in today's modern and spacious kitchens, workstations are becoming more and more of a thing. Natural light is important in your new kitchen, and so are the placement of artificial light fixtures such as pendant lights, wall sconces, or chandeliers. Dining areas are something to be considered, too. That's to say, where will the family gather to eat?
If you're ready to upgrade your existing kitchen to a layout that's more functional and much more fabulous, contact Oasis Builders in the Los Angeles area today. Our kitchen professionals are happy to guide you through the process of creating the kitchen of your dreams.