Client stories
General Remodeling, Long Beach
I found Oasis Builders on yelp, and they had 5-star reviews and everyone was over the moon about working with Neev. I decided to hire Neev and Oasis Builders because when I spoke with him, he was really honest and transparent about the process. As a first-time homeowner, going through construction can be nerve-wrecking, so I was concerned that working with a wrong person won't be the right fit for us. Neev quelled any nerves that I may have had.

Alexis Kavazanijan
General Remodeling
Lacette A.
Kitchen remodeling
Kitchen Remodeling, Bel Air
First off, I would like to say that Neev Kugel is the most professional, courteous and knowledgeable associate that the company has in my opinion. He has kept me informed during the entire process of my kitchen remodel project. He always returns my phone calls and always goes out of his way to make me feel comfortable with everyone that enters my home, if you are wondering why you should choose this company to come into your home, then let's just say "Neev Kugel" is all you need to know. Thank you Neev!!

Chris M.
General Remodeling
General Remodeling, Manhattan Beach
This was our first professional remodel in our 45 year old home. Thanks to Home Advisor, we had a large choice of local professionals to choose from. Our project manager Neev Kugel, kept daily contact with me, in person or on the phone. This close relationship made the remodel go very smoothly for any questions or concerns I might have. The project went quickly and professionally and turned out beautiful. Any changes or concerns were addressed immediately and taken care of, to my complete satisfaction. Thank you to Neev for putting up with me and my perfection demands for a perfect shower, it's just beautiful and just what I wanted.
Snezana K.
General Remodeling
Home Remodeling, Los Angeles
I hired Oasis Builders to do a major extensive remodel and expansion after another content tried to rip us off. They have been so wonderful to deal with. I told them what I wanted, and they made it happen. Neev, the company owner has a team of experts and navigated the way through a difficult and complex approval permit process and remodel. Their detail, perseverance  and patience of dealing with all the mixing parts throughout a process like this are second to none! I am very happy that I went with them because they are knowledgeable, ethical, reliable and truly care about providing a quality job. Every time we experienced some bump, which is to be expected during a large renovation job, they always responded quickly and took responsibility to make sure that I ended up with a quality job.
Kitchen Remodeling, Manhattan Beach
The most important aspect to me in a kitchen remodel was getting the kitchen cabinets' color that I wanted which was the dark-blue color. Oasis Builders actually listened to what I wanted. Neev reassured me that everything will be done in a timely manner and he was the only contractor who didn't talk me out of what I wanted. I had a very tight timeframe with regards to getting what I wanted with the remodel. The timeframe was met and it was within my budget.

Amy Karthan
Kitchen remodeling

David S.
General Remodeling
General Remodeling, Westlake Village
We were looking an energy efficient remodel that included air conditioning, new lighting, insulation and window replacement, a new electrical panel and were also considering solar. My main point of contact was Neev Kugel. I found im to be both very responsive to our needs and pragmatic in his approach. The scope grew to include a rewire based on needs dictated by living in an old house, though they also recommended to wait for solar before understanding the new energy dynamics post-improvements, which insured the investment was going to the most needed items. They went the extra mile to make sure we were satisfied with the work.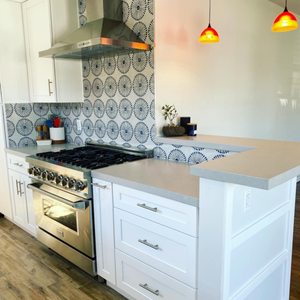 Joplin M.
Kitchen remodeling
Kitchen Renovation, Los Angeles
Oasis Builders and Neev are hands down the absolute BEST! Having never done any construction or renovations of any kind, the whole process of renovating a new kitchen was so daunting to think about, but from the moment we first met Neev, we were put at ease and we knew he was the one! Neev was the first contractor we met with when shopping out contractors, but we did our due diligence to meet with at least 5 more. He set the bar so high on our first meeting that no one else even came close! He was so personable and super professional, understood our vision while also offering such great insight on the project as a whole. Every step of the way he was right there with us, incredibly patient and making sure everything was going to plan. His team is very hard working, always professional and always helpful and everything they did looked just spectacular in the end. Highly, highly recommended!!

Michelle M.
Bathroom remodeling
Master Bathroom Remodel, Studio City
Our Project Manager was Neev Kugel and he was absolutely phenomenal to work with. We couldn't be happier. So recently we decided to do a total remodel on our stairs too, so of course we called Neev. Once again, he was excellent to work with. Our stairs were done beautifully and as always the customer service and quality of work were all at the highest level. Just like our master bathroom remodel, our Project Manager Neev Kugel was always on top of the project from start to finish. We have received so many compliments on our new stairs. Thank you Neev!