Wow Kitchen Design Ideas
August 25, 2021
3 min read
Love your kitchen but hate its design? You're not alone. Kitchens and baths have always been top-selling points for home buyers looking for the perfect investment. And if these areas are outdated or awkward, most buyers will pass. If it's time to pump up the pizzazz in the heart of your family's home, try these new and innovative kitchen design ideas that wow.
1. Use Contrasting Colors
Bold colors make for beautiful kitchens. Bonus points if you use colors that contrast instead of compliment one another. Contrasting colors are opposite each another on the color wheel and use combinations such as orange and blue or green and violet. And it doesn't have to be an in-your-face color palooza inside your kitchen. Instead, think subtle, and pair a Williamsburg Blue tile backsplash with warm-stained cabinetry.
2. Focus on Unique or High-End Accents
Cabinet hardware is a great place to make a statement. And new designs in kitchen hardware, such as leather draw pulls or mother-of-pearl cabinet knobs are easy and affordable ways to upgrade your kitchen design ideas.
You might also consider replacing a few white tiles in your floor or backsplash with hand-painted versions from a local artist, or changing out ho-hum cabinet doors with ones that offer interesting features such as filigree metal or ribbed glass. Small, affordable upgrades like these can make you feel like you renovated your whole kitchen.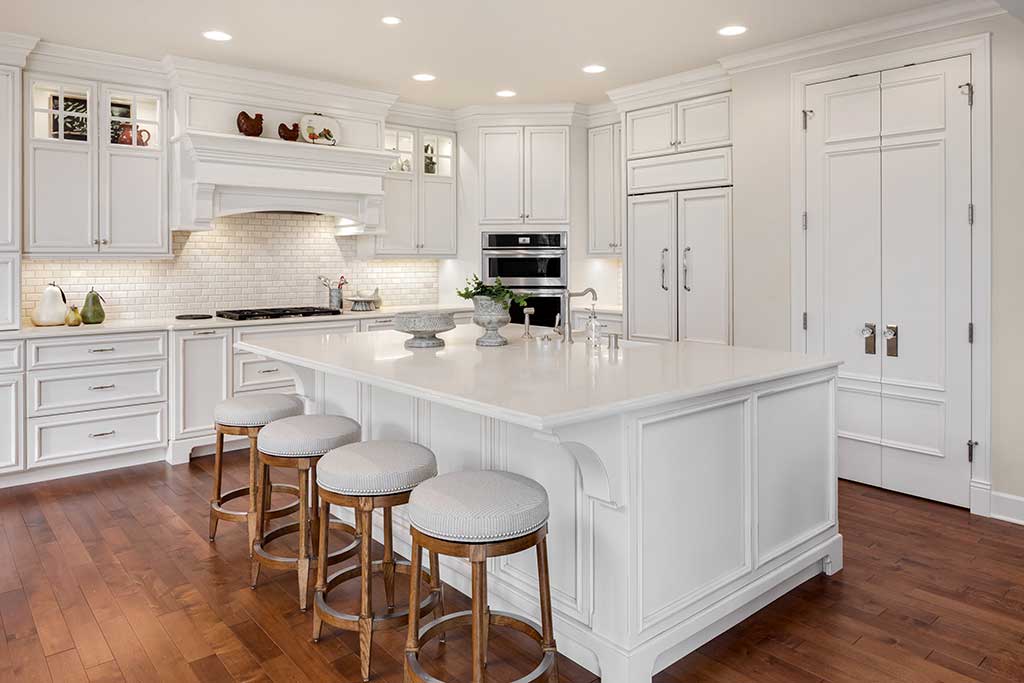 3. Go Vertical With Your Backsplash
Instead of those same horizontal, white, subway tiles everyone else has, try aligning your backsplash tiles on the vertical and using interesting shapes such as Arabesque or fish scale. You might also run your backsplash all the way to the ceiling in areas where there's no upper cabinetry, such as over the stove or behind a wall of open shelving.
4. Install Artistic Lighting
While nothing beats bright, natural light for making a kitchen feel open and spacious, pretty pendant lights are an excellent second alternative for creating mood. Today's pendant shapes are unlimited and include:
Drums
Globes
Cylinders
Domes
Discs
Teardrops
And shape isn't the only customizable option. There are also a wide range of materials and finishes available, such as pewter, glass, copper, crystal, and rattan. Use these to create a unique look in your upgraded kitchen.
5. Use Monochrome Kitchen Design Ideas
At the opposite end of the colorful kitchen is its monochrome alternative. Contemporary shades of black, white, and gray combine for a minimalist design. White upper cabinetry, combined with black or dark lower cabinetry is trending today, and helps to create an upscale feel in even smaller, more modest kitchens.
These kitchen design ideas won't break your budget, but they do pack a big punch when it comes to transforming a tired or dated space. Customize them to fit your personal taste and the way your family lives to bring personality and fun to the heart of your home.