Flooring Installation
Picking Out the Right Kitchen Flooring
One of the most crucial components in any home improvement remodel is choosing the right flooring material for that remodel. There are different types of floors which come with different functionalities and different price points.
The first thing to establish prior to selecting the right kitchen flooring is deciding the overall design for the kitchen space. There are two schools of thought when it comes to this:
Traditional – Kitchens and bathrooms are to receive tile, while common walkways and bedroom can receive either carpet, vinyl plank flooring, or wood floors.
Modern – This school of thought focuses on having one type of floor run consistently throughout the house (typically laminate wood flooring, vinyl, or wood flooring). The only areas to remain different are the bathrooms which are supposed to receive tile.
When considering kitchen flooring options, it is important to first establish the design concept you want to achieve based on the options stated above and then to choose the actual kitchen flooringmaterial.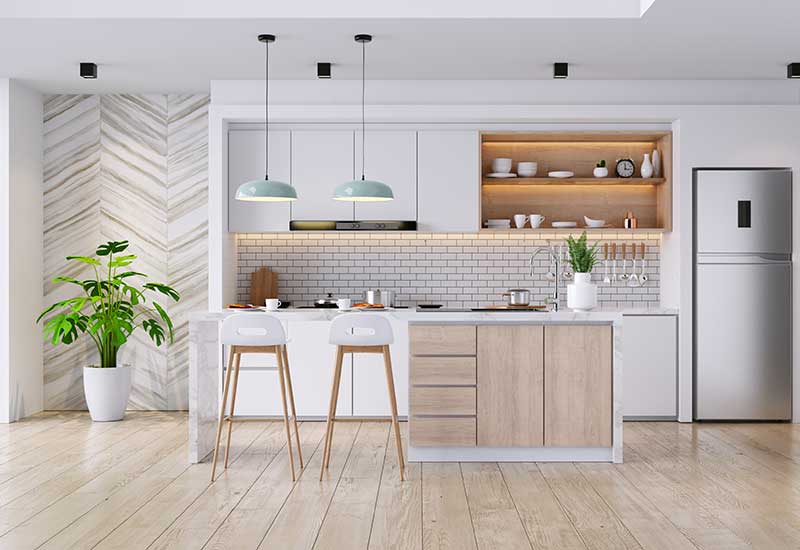 flooring information
Most Popular Kitchen Floors
• Vinyl plank flooring
Vinyl planks or vinyl luxury flooring has made huge strides and evolved from a material that used to be considered cheap to a highly effective, popular, and quality flooring option for a kitchen renovation. The main characteristics that increased this material's popularity have to do with its relatively inexpensive cost compared to other materials, as well as the fact that it is durable and waterproof. This is one of the best kitchen flooring options to consider when renovating a kitchen with a tight budget.
• Laminate planks
Laminate flooring lost some of its popularity with the advancement and evolution in materials such as vinyl. While it is similarly priced as vinyl, it does not offer the same characteristics which make it inferior and less desirable than vinyl flooring.
• Wood floors
There is a growing number of homeowners who are going for wood floors in kitchen. Wood flooring is divided into three types: Solid wood flooring, engineered wood, and reclaimed wood. Solid wood is a solid piece of wood from top to bottom, through its entire thickness. Engineered wood is anything that has a real wood wear layer, which means the top surface is real wood. Reclaimed wood is a distinct, special material deserving its own category. Antique reclaimed comes from vintage buildings that are at least 100 to 200 years old. Typically, antique reclaimed wood is more expensive than other wood flooring options.
• Tile flooring
Tile flooring is the most popular option for any kitchen remodel, especially here in Los Angeles. Tile is far superior to any other material mentioned previously due to its durability, waterproof characteristics, longevity, and exquisite look. This also makes it the most expensive flooring material to have installed in a kitchen. The main types of tile floors you would find in a kitchen are: Porcelain, ceramic, cement, marble, and travertine.
Regardless of the area and type of floor you choose to install,
call the best flooring installer in Los Angeles today
Oasis Builders, Inc. at (310) 425-3057
to receive a free estimate!
Things to Know About Solid Wood Flooring
Collapse
The original wood flooring option, solid wood is exactly what it sounds like. One of its main benefits is that it can typically be refinished several times during its service life. One important factor to consider when opting for solid wood is the house environment. It is all about the environment when it comes to stability. When you install a hardwood floor, you need to understand what is going on in your house. Solid wood can react drastically to the temperature and moisture content in the air. When it is humid, solid wood expands; when it is dry, solid wood contracts. This swelling and shrinking can create gaps between planks over time and can also create a squeaking noise as you are stepping on the floor. It is important to research and consult experts and your kitchen contractor about your specific location before installing solid wood floors.
What Does Reclaimed Wood mean?
Expand
While it is certainly still solid wood, reclaimed can be anything that has been used more than once. Often, it can cost double the price of new solid wood. One of the main reasons is because you are getting antique products which can be anywhere from 800 to 2,000 years old. The second big reason is the great amount of labor that goes into the process. The wood also has more beautiful grain and tighter growth rings than solid and engineered wood. The biggest advantage of reclaimed wood is its sustainability.
Is engineered flooring good?
Expand
Engineered wood can have different constructions. It can be plywood all the way through, or it can be a composite product on the bottom side. It is an extremely popular choice for a kitchen remodel in Los Angeles and typically offers a more modern look. Engineered wood flooring is not affected and does not react the same way as solid wood flooring by weather conditions. That said, given the fact that only the top layer is made of real wood, it is limited in the number of times it can be refinished.
What Are the Pros and Cons of Porcelain Tile?
Collapse
Porcelain is one of the most common types of tile. The appeal of porcelain comes from its ability to emulate natural stone, brick, or wood but without any of the maintenance. You get the same elegant finish without any of the upkeep or weathering. Furthermore, it is an all-purpose tile which comes in a variety of designs, colors, and styles to allow for versatility when designing a space. Porcelain can even be used outdoors, as it will not freeze, fade, or crack. Other applications for porcelain tile include bath or kitchen areas, high-traffic areas, and kitchen backsplashes.
How Durable is Ceramic Flooring?
Expand
Ceramic is also one of the most common types of tile. It offers increased durability which makes it perfect for any room in the house, such as kitchens, bathrooms, or even entryways. It is easy to install, clean, and comes in hundreds of styles that can fit any design. One of its main advantages is that if you are looking to renovate on a budget, ceramic offers a great price point. Additionally, we recommend that you know the difference between glazed and unglazed. While unglazed gives an artistic, rustic finish, glazed ceramic tiles provide more protection for longer lasting floors.
What is Cement Tile Flooring?
Expand
These tiles have been around since the 19th century and are currently experiencing a bit of a comeback in modern interior design. They are extremely versatile and can provide you with amazing patterns and colors. These tiles are extremely porous which can make them develop a patina over time to enhance the pattern. They can also be sanded and resealed, like wood floors, if they get discolored over time. The biggest drawback to cement tiles is that they are challenging to lay. Additionally, cement tile must be resealed once a month to maintain its beauty. Cement is best used in low-traffic areas and in small quantities.
Is Marble Good for Flooring?
Expand
The most pristine and costly tile material out there, marble tiles add an instant touch of elegance and refinement to any kitchen. They immediately upgrade the space and deliver texture and depth as they are either patterned or veined. It is important to note that marble tiles are susceptible to scratches and stains, in addition to being difficult to clean. They are best used in low traffic areas, and it is mostly recommended to seal them.
Are Travertine Floors Outdated?
Expand
Travertine – this type of natural stone offers a natural one-of-a-kind aesthetic. Mostly found in traditional and Spanish homes, this tile will enhance any traditional kitchen by providing warmth and a cozy feeling. Given the fact that it is a natural stone, it is easily affected by water, stains, and tractions. It requires extra maintenance, and it is recommended to seal it every few years. It is important to find out what sealant and cleaning materials work best with your specific travertine tile. It is best to install in low-traffic areas which is why many of people choose to install these tiles on walls instead of floors to avoid scratches and stains.